Match race and a half
Dave and Peter Askew's Volvo 70 Wizard (ex-Groupama) made head- lines in 2019 for some pretty impressive race results throughout the Atlantic arena: first overall in the RORC's Caribbean 600 in Feb- ruary, first overall in the New York YC's Transatlantic Race, and yet another win in the Rolex Fastnet Race in August. The US-based Wizard team was not able to replicate this result in a complicated light-air Middle Sea Race in Malta in October, yet one struggles to recall any team in history who has won outright three of four classic ocean races of over 600nm miles in the same year.
One of Wizard's Fastnet crew was a guest from another successful US race team. Roy P Disney has been racing with his father Roy's Pyewacket team all his life. For close to four decades on various ULDB Sleds, turbo-Sleds and a canting-keeled maxZ86, the Disneys' team has been winning races while chasing line honours and setting course records in multiple long ocean races from the US and Cana- dian west coast to Hawaii and Mexico. Roy P and team-mate Gary Weisman have both done the most Transpacs of any offshore sailor: 23 in total, not bad for a biennial race.
When Roy Snr passed in 2009 Roy P continued the Pyewacket commitment to ocean racing by campaigning an Andrews 70 and Andrews 68 ULDB Sled by the same name, with a detour in 2015 to chartering Bob Oatley's 100-footer Wild Oats for the Transpac to Honolulu. Their quest for a new course record was foiled by a strong El Niño weather pattern that kept the air too light, yet Oats still won their class. In fact, Disney's team won class in the Transpac in 2013, 2015 and 2017 and may have repeated that again in 2019 had they not dropped out in the second night of the race to rescue the crew of John Sangmeister's sinking Sled OEX.
According to Pyewacket team manager Robbie Haines, the goal of the 2019 Transpac campaign for Disney was not just a ULDB class win, but overall victory for the King Kalakaua Trophy, about the only major trophy among the classic Pacific ocean races that Pyewacket have not yet won. 'It eluded us in 2013 with the weather favouring the slow boats, the El Niño in 2015, and the Pac 52s in 2017,' he said. 'We wanted to race the Sled once more to see if the weather would co-operate and give us another shot at a win.'
It turns out that even without the OEX rescue this would not have happened: the fastest boats languished for the first 24 hours of the 2019 race in a 'Catalina Eddy', a light-air vortex that trapped everyone in among the last day's starters, allowing the second wave of mid-fleet starters to enjoy the best weather and hog the prizes. The Pyewacket team thus turned their focus to another Pacific milestone: the 3,571-mile Transpac Tahiti Race, also run by the Transpacific YC but irregularly on and off since its start in 1925 when this was the longest yacht race in the world. When event pro- moter Stephanie Betz and Tahiti Tourism pumped new energy into announcing another edition of this race in 2020 after a long hiatus (the last race in 2012 had only two entries…) this got the wheels turning for Haines and Disney. The course record set in 2008 by Doug Baker's Magnitude 80 also looks quite beatable for the latest- generation boats, the current mark translating to an average course speed of only 13.02kt on what is largely a tradewinds reaching race- course punctuated only by a waltz across the ITCZ.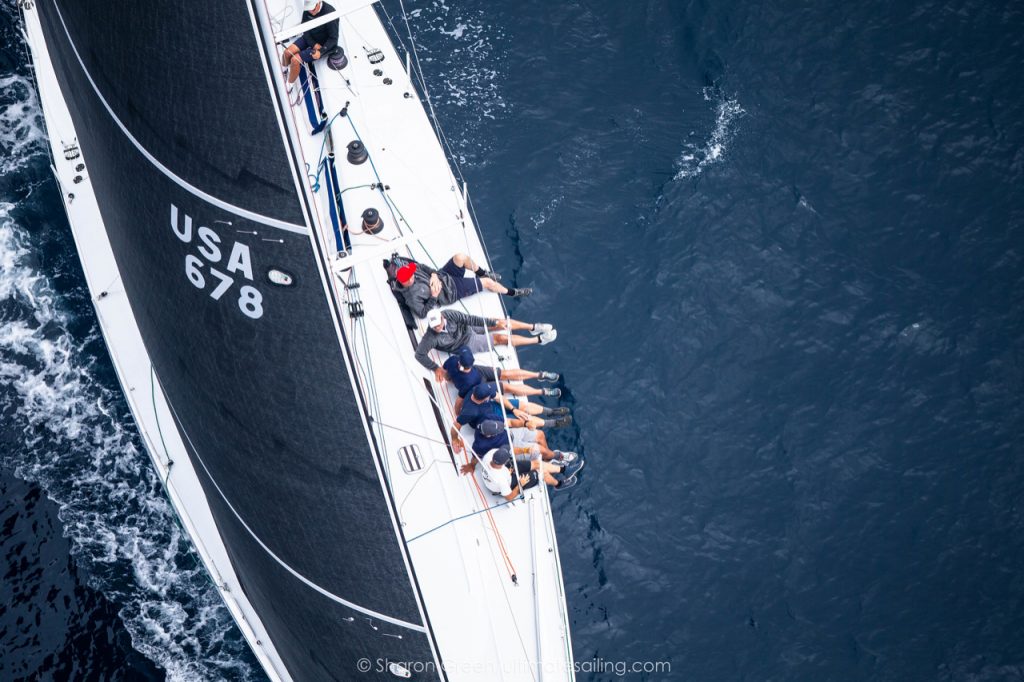 Disney then set out to acquire the Farr-designed Volvo 70 Black- jack from Australia (ex-Telefónica Black). With Disney armed with his new weapon, one cannot help but speculate who goaded who on that Fastnet Race: did Roy taunt the Askews to come back to the Pacific with Wizard, or did the Askews see this as a fun contest for both to push each other to break another record (and also have some fun in one of the most beautiful places on the planet!)
'It was a pleasure having Roy with us for the Fastnet,' said Peter Askew, who will be taking the lead on the Tahiti race campaign. 'It turns out we have some crew overlaps and some of our regulars cannot make it, so it will be interesting to train for this race. Given the long course we anticipate going with only 10 on the boat rather than the usual 14. We're not sure yet on reconfiguring the boat, she seems pretty fast as is, but we'll look at this in the Caribbean 600.' Being a more seasoned Pacific race veteran, and having a veteran group of sailmakers like Haines and Weisman on his team, Disney is taking a strong look at optimisations for their boat that has already had some significant mods from VO70 class trim.
'She is 2ft deeper with a lighter bulb,' said Disney, 'a 1m taller mast and longer prod, but we're having to learn a lot…'
Come late May this should be quite the match race: two of the most experienced teams in US ocean racing from opposite sides of the country duking it out in one of the oldest and longest of ocean races in a quest for line honours and a new course record. And with at least one other fast boat on the roster of 14 entries – Eric Brock- mann's newly acquired Volvo 65 Viva Mexico! – plus a good chance of a MOD 70, this is turning into something a lot more interesting than many expected… Better add Transpac Tahiti to the list.
—
Dobbs Davis
Credits:
The Wizard team after winning the Fastnet Race: Paul Wyeth/pwpictures
Pyewacket from the start of the Transpac: Ultimate Sailing/Sharon Green.